September 8th, 2016
8/2–8th National Night Out, Sykesville
We got to the event a little after 6:15pm, so we quickly got suited up and headed outside. First stop was the firetrucks where we stood and met some of the little fans roaming around with their parents. For the rest of the time, we milled around an open parking lot where there was a steady stream of families to take photos with. Even though R2 was "sick with strep throat", the kids were excited to have us out. Around 8:45/9:00pm, we called it a night and unsuited. One of the ladies already gave us a flyer for next year to have us back!
Troopers:
Emily – Rex
Josh – TK
Jason – R2/Squire
---
8/6–Casey Cares & Baltimore Orioles 5K, Baltimore
This was a really good troop, if really humid too. They gave us the Auxiliary Clubhouse/Interview Room to change in, which allowed us plenty of space to be ready by about 7 AM. We circulated in the registration area outside Camden Yards, taking pictures, playing with kids, and even joining in with the warm-up dancing (cough, Warren, cough). There was a DJ, the Oriole Bird (briefly), and a handful of other vendors. Once the race started, we went into the stadium concourse to get about a 20-minute breather and water break. The folks from Casey Cares were really grateful to have us there, with several volunteers telling us so. As the runners started coming in, we got our buckets on and went outside the stadium to cheer and wave. We gave out a lot of home-stretch high fives and took a few more pictures as things wrapped up. Afterwards, some of us headed over towards the Senator for brunch.
Troopers:
Chris- TR
Stephen – TK
William – TK
Melissa – ID
Warren – DZ
Mandos:
Brian
Conner
Brendan (squire)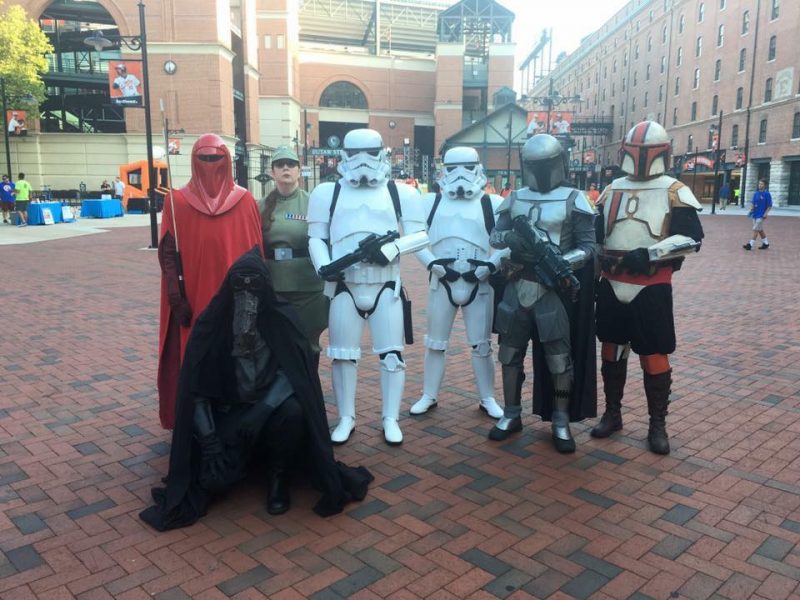 ---
8/6–FRIENDS Downright Spectacular Car Show, Frederick
Tom and I arrived and had to get suited up in the parking lot. It was definitely a warm day and with the threat of rain, not many people showed up as either spectators or participants. The folks were confused but happy to see us. We made many laps around the cars to keep the air moving and take some pictures. Eventually we went in the mall to walk around and cool off. We made a few more circuits around the lot with the cars then called a day around 12:45pm
Troopers:
Emily – Rex
Tom – Havoc (RL)
---
8/6–Star Wars Spectacular, Hampstead
This was a nice, short library event. As always, the Hampstead staff was very helpful and glad that we were there. They had the usual arts and crafts, i.e. Yoda ears, coloring, paper bag puppets, etc. One new thing they had was a little, vertical wind tunnel made out of clear plastic and a fan. The kids cut out and colored T.I.E. fighters and glued them to little paper cups. Then they put them in the tube to see how high the could get. Most importantly, it was Jesse's first troop! Congratulations!!!
Troopers:
Rob Cross – Vader
Matt – TK
Jesse – TK
Jason – R2
Bry – ID
John – TK
---
8/12–Star Wars Night at the Hagerstown Suns
We got dressed and ready to go a little after 6pm thanks to some weird weather and traffic. Dave from Rebel Legion had a table that Kami kept an eye on. Dave, Jake, and Emily stood near the entrance to take pictures with anybody that wanted one. Before the beginning of the game, each of us escorted one of the kids to the mound to throw out the first pitch then returned to our spot at the entrance. After a food and water break, we made a few circuits around the stands and even got on side to do that wave. We called it a night around 8:30 or so. The organizer really appreciated having us out, and we hope we're able to do it again next season.
Troopers:
Emily – Rex
Jake – TK
Dave (RL) – Han Solo
Squire:
Kami
---
8/13–Star Wars Night with the Washington Nationals, DC
Wow! What troop! The Nats treated us well again this year. They kept us fed and hydrated. They also provide t-shirts for everyone that came (assuming you could fit in the sizes they provided). They also gave us a gift bag with a bunch of swag it. We plan to raffle it off and donate the proceeds to Ellicott City. We manned the table, trooped the gates, roamed, and went on the field for the start of the game. Special thanks to Jason for letting us use his backdrop!
The biggest part of this event was the heat. It hit 100 degrees with a heat index of 115. Most of our folks were suited up for 4.5-5.0 hours in these temperatures! We can't say thank you enough to all of our troopers and squires! No one could ask more from our folks! Most importantly, everyone stayed healthy and safe.  A big thanks to our brothers and sisters from Garrison Tyranus for coming out to make this a huge event.
Troopers:
Randy – BH
Emily – Rex
Will – ID
Charlie – TI
Stephen – TK
Phil – ID/DZ
Alex – TB (GT)
Christopher – ID/TK (GT)
Matthew – TK
Ron – Boss (GT)
Adam – TB (GT)
Tony – TK/TI? (GT)
Frank – TK (GT)
Lori – TS (GT)
Anne – Daala/Isard (GT)
Amber – TI (GT)
Brian – Ep 7 TK (GT)
Ben -Havoc (GT)
Justin – ID (GT)
Kevin – TK (GT)
Katherine – DZ (GC)
Brad – TD (GT)
Heather – ID (GT)
BJ – TK (GT)
Drew (GT) – TK
Squries:
Anna (GT) – Squire
Chris (GT) – Squire
Bria (GT) – Squire
Cathy – Squire
Jason (GT) – Squire
Steven (GT) – Squire
Scott (GT) – Squire
---
8/13–WCFL Comic Con, Hagerstown
---
8/13–Star Wars Night w/ Charm City Roller Girls, Laurel
We landed at the rink around five and were escorted to a small locker room in the back of the rink, where A TD and the Mando's were already getting themselves in gear. After suiting up we patrolled the cafe, took pictures with the fans and the roller derby teams, and at the end of the night judged a costume contest won by a youngling in a storm trooper costume. It was a fun night trying to get kids over their fear to pose with us, fighting off padawans, and best of all Air Conditioning (sorry Nat and Ironbird Troopers). It was a great troop to end one of the hottest days, clocking in with a heat index at 120 degrees!
Troopers:
Damon -TD
William- TK
Melissa- ID
---
8/26/2016 Sidney's 9th Birthday, Westminster

This was a great little birthday party. We were able to change at a neighbor's house and then come over when the party was in full swing. There were about 14 kids there. They all had foam light sabers, but no one tried to hit us!
I'm not sure who was the most excited to see us, the kids or the parents!
Troopers:
Jason – R2
Matt – TK
William – TK
Melissa – ID
Rob – Vader
---
8/27/2016 USO Metro Movies on the Lawn, JB Andrews
Everyone was there by 530 we sat outside until the USO personnel were ready for us and showed us a Staff room to change and leave our stuff. The doors opened up at 7 allowing the guests in, they loved seeing us there waiting for them at the pool. We walked around and took photos and answered questions about our organizations. Once the movie started we all desuited and headed out of there. We passed out our business card and talked to the two people in charge about spreading the word and working with them for other events.
Troopers:
Shep – IG
Melissa – ID
William – TK
Jason – R2
---
8/27–Skyler's 7th Birthday, Baltimore
This was a fun little troop. It was sort of last minute for me, but I was able to squeeze it in with everything I had to do yesterday. I arrived about 20 minute before the party started and talked with Skyler's Dad, who was excited that we were able to make it. He told me that he wasn't sure that we were going to make it, so he had his brother dress up as Vader. He went on to say that his brothers Vader costume was put together last minute and that it would look silly compared to my armor. I advised him that its for the kids and really doesnt matter to me as long as they're happy. So we finished suiting up in the garage and made our way into the house. Skyler's face lit up with the biggest smile, and I could tell that he was super excited.  I, along with Uncle Vader, posed for a bunch of pictures with the guests.  My wife then said to the grandmother, "If anyone has any music, I bet our Sandtrooper will dance.". So I busted out the cabbage patch and the kids and adults were all dying laughing. I don't know what was so funny as my moves are pretty spot-on. After the mini-dance party, I wrote Skyler a MEPD Imperial Citation for his "Unauthorized Rebel Gathering", answered a bunch of questions about daily life on Tatooine as a Sandtrooper, and advised him that we would be back to start his Imperial training. After a round of high-fives from the adults and kids, I said goodbye and packed it in. Overall, this was a pretty small party, but it was nice. I stayed for about an hour. The kids were super behaved and the house was air conditioned. Thank the Maker for inside parties!!
Troopers:
Jesse – TK
---
8/28–Ethan's 6th Birthday, Manchester
TK 86347 and ID 13621 arrived early and spent some time with the family of the birthday boy. Everyone we very excited to have us. R2D2 arrived and entertained the guests until we were ready to join him. R2, as usual, was the life of the party. Ethan, the birthday boy, was excited and overwhelmed, especially after R2 sung "Happy Birthday" and presented him with a challenge coin. We posed for pictures and interacted with the guests. One four-year-old girl was a little unsure about the TK, but he won her over after discovering that they both share the favorite color, blue. After that she barely left his side and coaxed some other unsure younlings into posing for pictures with us. R2 took a spill on a treacherous route but appears to have been spared any significant damage. Eventually, the call of the bounce house and pinata beckoned the younlings away, so we said our goodbyes. Though it was a hot day, it was a very satisfying troop and the younlings and adults alike had a great time.
Troopers:
William – TK
Melissa – ID
Jason – R2